PENGAMPUNAN DAN PERJANJIAN DALAM PEMIKIRAN HANNAH ARENDT
Keywords:
revolusi, pengampunan, rekonsiliasi, perjanjian, bekerja, karya, keadilan, pengharapan, Yesus.
Abstract
Menurut Hannah Arendt, kapasitas manusia untuk mengampuni kesalahan, membuat perjanjian, dan menepati janjinya, dapat menjadi solusi yang lebih baik bagi predicament bawaan dari aktivitas bertindak, daripada solusi yang lebih sering dijumpai, yaitu kontrol. Kontrol telah menjadi solusi umum dalam sejarah filsafat politik Barat sejak Plato bagi ketiga predicament tindakan, yakni: unpredictability, irreversibility, dan inability to locate the subject of action. Arendt menelusuri sejarah solusi ini di dalam penggunaan metafora- metafora proses fabrikasi yang dikenakan kepada proses-proses politik. Ini adalah substitusi berbahaya yang telah memimpin kepada penindasan, alienasi, dan kekerasan di dalam sejarah politik. Arendt berargumen bahwa pengampunan dan perjanjian, dua kapasitas manusia yang menimbulkan iman dan pengharapan adalah jalan keluar yang lebih baik daripada penggunaan kekerasan dan kontrol di dalam urusan politik. Artikel ini akan menelusuri sumber-sumber Yudaisme dan Kristen di dalam usulan Arendt ini. Pada akhir artikel ada apropriasi usulan Arendt ini untuk memahami dinamika politik di Indonesia.?
Downloads
Download data is not yet available.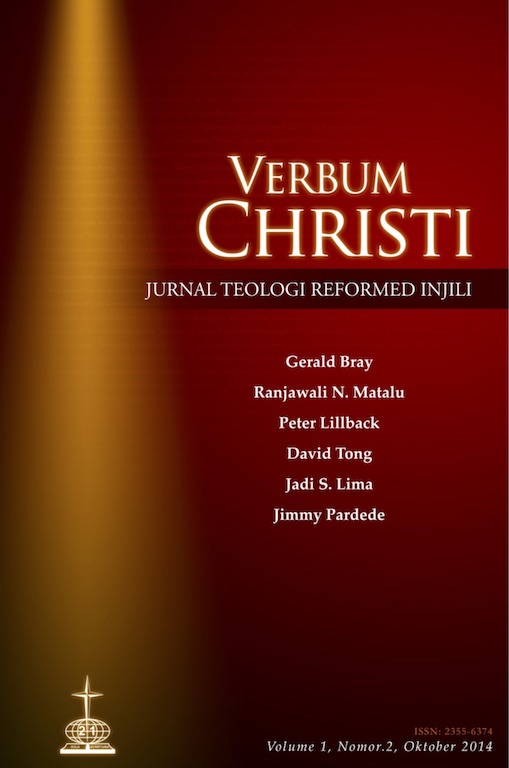 Downloads
How to Cite
Lima, J. (2017). PENGAMPUNAN DAN PERJANJIAN DALAM PEMIKIRAN HANNAH ARENDT. VERBUM CHRISTI: JOURNAL OF REFORMED EVANGELICAL THEOLOGY, 1(2), 340-376. https://doi.org/10.51688/vc1.2.2014.art5
License
Copyright (c) 2017 VERBUM CHRISTI: JURNAL TEOLOGI REFORMED INJILI
This work is licensed under a Creative Commons Attribution-NonCommercial 4.0 International License.
hak dipegang jurnal dengan sepengetahuan penulis.