TEOLOGI DOA MARTIN LUTHER
Keywords:
Luther, doa, teologi, Anfechtungen.
Abstract
Teologi doa Luther merupakan salah satu teologi doa Kristen yang penting. Luther dalam teologi doanya menunjukkan hubungan yang erat antara teologi dan doa. Ia juga menerapkan pengertian-pengertian teologi doanya. Kehidupan dan pelayanannya memperlihatkan doa sebagai sarana utama kehendak Allah dikerjakan dalam hidupnya. Luther adalah seorang yang berdoa. Ia menyatakan alasan mengapa doa begitu penting dalam hidupnya dalam tulisan- tulisan teologisnya. Dengan melihat makna doa, motivasi doa, sikap doa, sasaran doa, cara berdoa, syarat-syarat doa, doa dan Allah Tritunggal, doa dan Anfechtungen, serta manfaat doa maka teologi doa Luther dapat disarikan dan disusun menjadi suatu teologi doa yang alkitabiah.
Downloads
Download data is not yet available.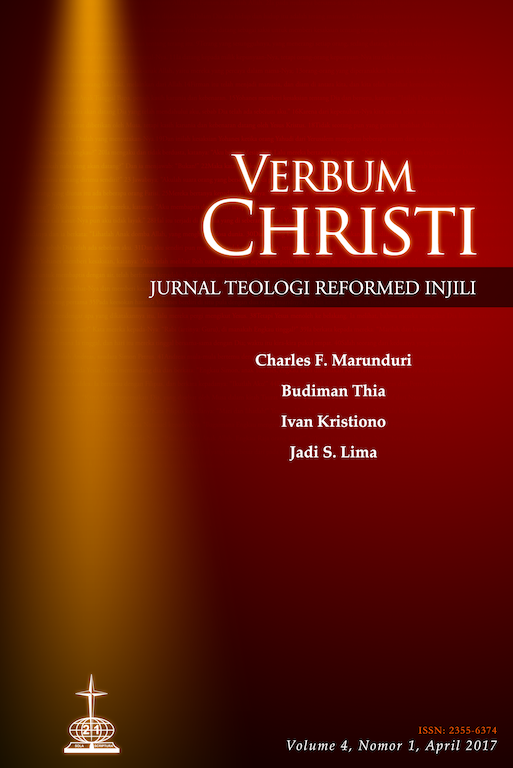 Downloads
How to Cite
Marunduri, C. F. (2017). TEOLOGI DOA MARTIN LUTHER. VERBUM CHRISTI: JOURNAL OF REFORMED EVANGELICAL THEOLOGY, 4(1), 15-40. https://doi.org/10.51688/vc4.1.2017.art1
License
Copyright (c) 2017 VERBUM CHRISTI: JURNAL TEOLOGI REFORMED INJILI
This work is licensed under a Creative Commons Attribution-NonCommercial 4.0 International License.
hak dipegang jurnal dengan sepengetahuan penulis.